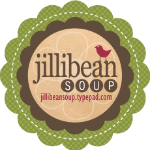 Bloggers and Facebook Fans we need to send some BIRTHDAY LOVE to Jillibean Soup today. I opened my email today to find an INCREDIBLE email from Jill, owner of
Jillibean Soup
. They are going to SPONSOR our make-n-take at our Birthday crop! But that's NOT all...Guess who is TEACHING the make-n-take? Jillibean Soup's Design Team member JENNIFER HARKIN!
Please, Please, Please LIKE their
Facebook page
and leave a comment. Make sure to tell them you came over from
That Scrappy Girl
.
{{Hugs}}
Mimi